Today, I wish to talk about a particular person, who has a birthday this month and totally deserves a huge celebration.
Her name is Eowyn. (Well, of course that's not her real name, but I don't think she wants her real name broadcast to the world, so...) She blogs over at
Inklings Press
, and she's a simply wonderful girl.
The Box
(which, by the way, is amazing; if you haven't read it, you should), and she asked if I would like to read the first five chapters of her novel, and we went from there.
Newsies
when I had 7k words to make up. Every email from her is full of fun, encouragement and fangirling. We have nicknames and inside jokes and shared fandoms and our emails have this weird habit of getting longer and longer. ;)
She's amazingly enthusiastic about her fandoms, and her fangirling puts mine to shame. She knows quite a bit about her fanships as well--FARAMIR, Les Mis, Phantom, Wicked...if she loves it, she does research, and the breadth of the knowledge she has of some of those things amazes me.
She knows a LOT about this guy, let me tell you. ;)




I don't know how we manage it, but the huge projects we plan always come together with both of us working on them. Like
this party
. And
this piece
. And we have two or three other projects in the early planning stages...
She's always cheerful, and she has a vast array of quotes that she uses in any and all situations (and makes me squeal with delight). I love talking with her in any way, shape or form.
Also, she's just a lovely Christian girl. We can talk about marriage, beauty, God, &c. and that's been really helpful for me sometimes. I love to discuss things like Les Mis or Lord of the Rings from a Christian viewpoint.
And now, I suppose there's only one thing left to say, which is HAPPY (late) BIRTHDAY, EOWYN, AND THANK YOU FOR BEING MY LOVELY, WONDERFUL FRIEND!!!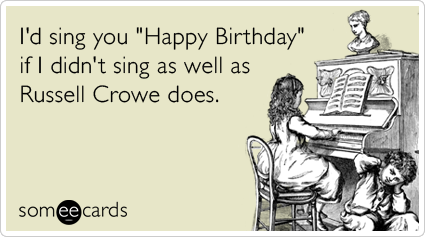 This isn't quite true...but it was too good to pass up. ;)